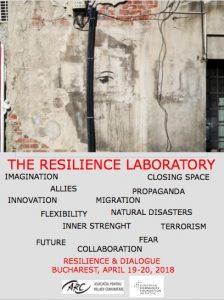 The purpose of the two-day peer learning event "Resilience & Dialogue" held on 19-20 April 2018 in Bucharest (Romania) is to strengthen the capacity of community foundations to understand and address broader issues and better define the idea of community leadership in European context. (click on the picture on the left for more info). Its ambition is to collectively explore existing practices and approaches of community foundations in Europe that strengthen the resilience of communities and the capacity for dialogue.
On this page you can find additional information on the event.
Resources for reading
A real life case study: Vacaresti Natural Park (river delta), a space that illustrates the concept of resilience. A brief history of the site.
Emotional and Personal Resilience Through Life by Kate M. Bennett, University of Liverpool, March 2015, Government Office for Science
Handbook for Local Government Leaders: How to Make Cities more Resilient, United Nations Center for Disaster Risk Reduction (UNISDR), Geneva, 2012
http://learningforsustainability.net/
Building Resilience in Rural Communities Toolkit, The University of Queensland and  University of Southern Queensland, 2008
Longstaff, Patricia H. et al. "Building Resilient Communities: A Preliminary Framework for Assessment." Homeland Security Affairs 6, Article 6 (September 2010).
For more information about the meeting contact Rucsandra Pop (rucsandra@arcromania.ro) from ARC or Boris Strečanský from ECFI.